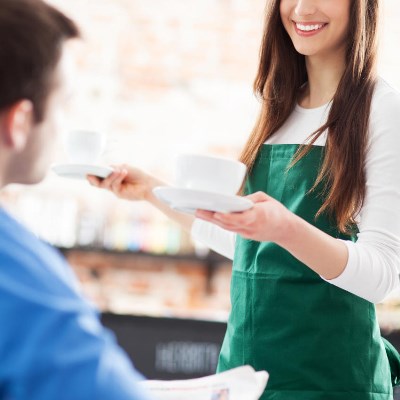 Airport dining has come a long way. Although you may still be able to get the old greasy burger and fries in a brown paper bag to go, now airport restaurants are offering more upscale and tasty alternatives. Some of the top chefs and restaurateurs from around the country have put their brands into Airport terminals, and it seems to be an enormous success. So if you get to the airport a little early why not sit down, relax with a drink and enjoy a delicious meal before boarding your flight. These top restaurant picks for NYC Airport dining surely will not disappoint!
Blue Smoke on the Road:
If you want to have great food and watch a game before your flight, Blue Smoke on the Road is the right choice. Relax with a beer, a glass of wine or a cocktail. The food is a southern and soulful delight of dishes made with smoked meats, ribs, sausages and other barbecue plates. There is also a lovely view of the outside terminals from the restaurant.
Owned by Restaurateur Danny Meyer
JFK Airport – Terminal 4

Deep Blue Sushi:
For all traveling sushi lovers, Deep Blue Sushi is one not to miss. You can get anything from a typical basic tuna roll to fried goat cheese croquettes on a tangy Asian salad. This Asian Fusion restaurant offers sit-down as well as take-out if you are in a hurry.
Owned by Chef Michael Schulson
JFK Airport, Terminal 5

Victory Grill:
Victory Grill has a great variety of dishes. They offer salads, burgers, steaks, chicken, fish and even a raw bar. The pork sliders seem to be a popular favorite on the menu. If you just want to have a drink and appetizers, there's a nice bar area where you can enjoy a cocktail or two before your flight!
Owned by Chef Andrew Carmellini
LaGuardia Airport, Terminal C
Biergarten:
Calling all beer aficionados! Biergarten offers a fantastic selection of craft beers from around the world that pair rather well with their German-style menu. Have a glass of Allagash White or Brooklyn Lager pre-flight. Why have an ordinary cheeseburger when you can order a chicken schnitzel sandwich or a cheddar bratwurst? They also have some great small plates to nosh on as well.
Owned By Brewmaster Garrett Oliver
LaGuardia Airport, Terminal C

Saison:
If you like escargot and quiche Lorraine then you need to try Saison. This French style restaurant that opened last year has been a classy addition to Newark Airport's restaurant setting. The menu offers an extensive selection of traditional French dishes. If you have an early flight, you can also enjoy their breakfast menu from brioche French toast to a basket of breakfast pastries.
Owned by Chef Alain Ducasse
Newark Airport, Terminal C

Abruzzo Italian Steakhouse
It's probably safe to say that everyone loves Italian food. Abruzzo Italian Steakhouse has the comfort food you've been looking for. You can snack on a cheese plate with salami, parmesan cheese and a glass of wine or maybe a unique salad of brussel sprouts and butternut squash. You can go with a traditional meal of handmade pasta, veal chop or a T-bone steak.
Owned by Chef Mario Carbone
Newark Airport, Terminal C

We hope all of you traveling foodies out there enjoy these recommendations. Bon Apetit!