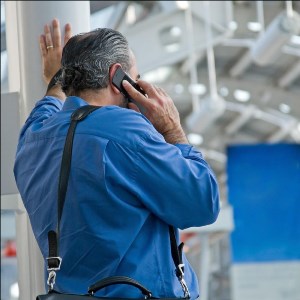 The holiday season has officially begun, and so has travel season. This time of year, airports have the largest amount of travelers. It's unavoidable, and business must still go on. So, if you must travel for business during peak holiday times, here are five tips that can help you make your trip hassle-free.
Pack Light
Most airlines let you board with two carry-ons. It is possible to fit everything you need into 1 carry-on, leaving your second carry-on for your laptop bag. The best way to fit all your clothes into one is to fold then roll them tightly. Not only does this give you extra room in your carry-on, it cuts down on wrinkles as well. Two pairs of shoes should be more than sufficient as you will only need one casual shoe and one dress shoe. Save even more room if you pack just one pair of shoes and wear the other pair to the airport. You can pack toiletries in your carry-on if you stick to the travel-size guidelines. Most hotels have all the necessary toiletries you need so unless you have a specific brand that you can't live without, just use the hotel's brand. You can also pack your suit in a carry-on and still have it crisp and fresh for your business meetings. After unpacking just hang it in the bathroom and run the shower and let it steam. Learn more about best ways to pack a suit here. Packing light is a great time-saver. If you don't check your bags then there's no wait at baggage claim. Just get off your flight and go!
Ship your items
If you are heading to an important meeting or a trade-show that requires you to bring props and samples, ship them ahead of time to your hotel concierge or a colleague who is already there. Should your flight be delayed, your team will already have the items they need to get the show on the road until you arrive.
Apply for TSA pre-check or Global Pass
TSA pre-check is probably one of the biggest time-savers with travel. There are 150 airports and 12 major airlines in the US that offer this expedited security screening. Once you go through the screening process, and you have been approved for TSA pre-check, you won't have to wait on long security lines nor will you have to remove certain clothing items and shoes. You can learn more about TSA pre-check and apply online here. For the Global Pass go to http://usa.immigrationvisaforms.com/travel/global-entry-pass. If you have an American Express Platinum Card you will be reimbursed the $100.00 fee after it is charged.
Always have cash on hand
Make sure you have cash in your wallet BEFORE you arrive at the airport. Should credit card systems go down or cash machines are out of order at the airport, you are fully prepared for any last minute travel expenses.
Hire an executive car service
Start your trip off stress-free from the beginning and forgo driving yourself to the airport during the holiday travel rush. You can relax on the way in and conduct business as needed. An executive car service company knows how to get around the airports and has extensive experience with airport traffic flow. Your chauffeur will be well-versed to get you in and out as quickly and safely as possible. With car service, you get curbside drop-off and help with your luggage for a smooth start to your trip.
Should you have any questions related to executive ground transportation during the holiday season, please feel free to contact us via email or telephone. We are available 24 hours/ seven days a week.